A grand celebration of people and cars
In what is clearly the pinnacle event in the Automotive Hall of Fame calendar, the Oct. 11, 2005 Induction ceremony lived up to every expectation, with eight automotive legends being added to a select list that still numbers less than 300.
| | |
| --- | --- |
| | Guy Gordon, reporter, WDIV-TV, Channel 4, Detroit, was MC for the AHF Induction Ceremony. |
The event, held in the Marriott Hotel at Renaissance Center, included each of the living Inductees and a direct descendant from each of the four posthumous Inductees.

"It was a very special night," notes Automotive Hall of Fame President Jeff Leestma. "All of our Inductees, as well as the descendents of those honored posthumously, were there in person to accept their induction."

As each of the living Inductees accepted what is, after all, the most prestigious honor the industry can bestow, it was clear how truly moving the ceremony was to those involved.

"It was evident that our Inductees were truly honored and humbled by the company they now keep," says Leestma. "This is the high point of someone's career and the rarity of the honor — only four to eight in any given year — speaks to that fact."

This year's Inductees to the Automotive Hall of Fame include:


| | |
| --- | --- |
| Mario Andretti (1940- ), simply one of the world's greatest race drivers, having won championships at Indianapolis, Daytona and in Formula One. No other driver in history has been as successful in such a wide range of racing venues. | |
| | |
| --- | --- |
| | Jim Moran (1918- ), one of the first auto dealers to advertise on television, owned the nation's biggest Hudson, then Ford dealership in Chicago and the largest Pontiac dealership in Florida. In 1968, Moran became the Toyota distributor in a five state area in the southeast United States. |
| | |
| --- | --- |
| Shirley Muldowney (1940- ) was the first woman licensed to drive a Top Fuel dragster in 1973, winning the NHRA World Championship three times, the IHRA Championship once, and earning a total of 18 career NHRA victories. | |
| | |
| --- | --- |
| | John (Jack) Smith Jr. (1939- ), a former Chairman and CEO of General Motors, pictured at left with his wife, Lydia, is recognized for leading the successful turnaround of GM in the 1990s and for building the strength and depth of GM's management team worldwide. |
John Dunlop (1840-1921), inventor of the first successful pneumatic (air-filled) tire. His pneumatic tire was patented in 1888 and he went on to found the Dunlop Tire Company.
Sir William Lyons (1901-1985), founder of Jaguar Cars, began his career by building motorcycle sidecars in 1922 and moved to coach building in 1927. His cars were synonymous with speed and style.
John Mohler Studebaker (1833-1917) transformed the successful Studebaker Brothers Mfg. Company, which was the largest manufacturer of horse-drawn vehicles, into the Studebaker Corporation, which by 1911 had become the second largest producer of automobiles.
Alexander Winton (1860-1932) was a true American automotive pioneer and builder of some of the fastest and most technologically-advanced cars of his era. Winton held more than 100 patents in the United States and Europe for various automotive advances.

"Wish we had more time."
- Tom B., Portage, Wisconsin
Young Leaders honored with industry heroes
While much of the focus of the Automotive Hall of Fame (AHF) is historical in nature, the organization does take care to recognize one thing: it's the current generation of younger individuals who will one day lead the industry.
Hence, the AHF Young Leadership & Excellence Award, an opportunity to recognize those up and coming individuals who demonstrate exceptional qualities in their current endeavors-and the potential for significant advancement.
| | |
| --- | --- |
| | AHF Chairman Rod Alberts |
"It allows us to look to the future," says AHF Chairman Rod Alberts. "These people are already accomplished in their careers, but by the very nature of the qualification - being under 35 years of age - they have much ahead of them. It's a privilege to be able to celebrate that potential with this awards program."

And because the Young Leadership & Excellence Awards are presented in conjunction with the Induction ceremony, the recipients receive yet another thrill: being able to rub shoulders with some of the greatest names in an industry they are growing into.

This year's Young Leaders Awards winners included:

Kristy L. Coles, 27, Senior Quality Reliability Engineer at American Axle & Manufacturing, where she has been for five years. Coles received her Bachelor of Science Degree from the University of Michigan, graduating with Honors. She then went on to obtain her Master of Business Administration Degree from Baker College, graduating with Highest Honors. Coles trains and coaches her fellow engineers, assists in new business initiatives, and supports product and manufacturing engineering.

Brandon L. Faurote, 34, Director, Advanced Product Design for DaimlerChrysler Corporation, where he has been with the Chrysler Group since 1993. He received his Bachelor of Fine Arts Degree from the College for Creative Studies in Detroit, and is responsible for the advanced design and packaging phases of many of DaimlerChrysler's most critical vehicle programs.

Sanjeev C. Mirle, 32, Launch Advisor, Manufacturing Program Management for General Motors Corporation. He received a Bachelor of Science Degree in Electrical Engineering from GMI Engineering as well as a Master of Science Degree in Electrical Engineering, and a Master of Business Administration, both from the University of Michigan, Ann Arbor. Mirle provides guidelines, framework, and metrics to program leadership for planning and executing world-class vehicle launches.

Julie A. Roehm, 34, is Director of Communications for Chrysler Group Marketing at DaimlerChrysler Corporation. She earned a Bachelor of Science Degree in Civil Engineering from Purdue University and a Master's Degree in Marketing and Business Policy from the University of Chicago. Roehm has created a department able to effectively gain maximum exposure for all three brands, Chrysler, Jeep, and Dodge, by leveraging individual brand successes while keeping the unique feel of each.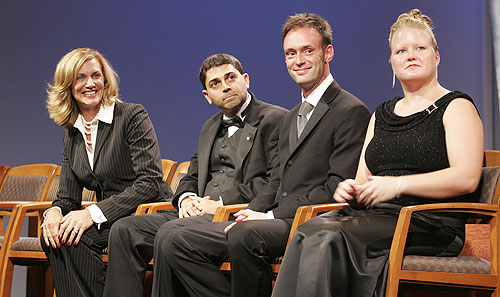 Winners of the AHF Young Leader Awards (left to right) Julie Roehm, Sanjeev C. Mirle, Brandon L. Faurote, and Kristy L. Coles.

"It's the best museum I've ever been to.
Keep this, it's a very special place."
- Carlos G., Venezuela
President's Message
If you think the auto industry doesn't have its heroes, you obviously missed our most recent Induction Ceremony on Oct. 11.
Of our four living inductees – Mario Andretti, Jim Moran, Shirley Muldowney and Jack Smith – all are role models of the highest order and great ambassadors for their respective areas of the auto industry. And to have them all together in one place at one time was a real treat.

Jeffrey Leestma
AHF President
In addition, we were pleased to see on hand the direct descendants of each of our posthumous inductees – John Boyd Dunlop, Sir William Lyons, John Mohler Studebaker and Alexander Winton.

All eight inductees are outstanding examples of why the Automotive Hall of Fame is "the highest place of honor in the international motor vehicle industry."

Looking ahead, on Feb. 12 we will be honoring seven individuals with Distinguished Service Citations in Orlando. Unlike Inductees, who must have retired from the industry, Distinguished Service Citations are bestowed on those still active in the industry and who are making outstanding contributions to their respective companies and industry.

If you plan to be in Orlando during that time (the ceremony is held in conjunction with the National Automobile Dealers Association convention), I cordially invite you to attend the Automotive Hall of Fame Annual Awards Luncheon, Sunday, Feb. 12, from 11 am to 1 pm. For more information, or to reserve a seat or purchase a table, please contact Lisa Berecz or Lynne Hall at 313.240.4000.

As 2005 comes to a close, I want to personally thank the individuals and the organizations who have supported the mission of the Automotive Hall of Fame, as well as our Board of Directors. Without your support, we would not be able to continue to honor the creativity, toil and genius of the auto industry's greatest heroes.

I hope you have a happy and prosperous new year!

Jeffrey K. Leestma
President

"Love it! Feel inspired!"
- Vinson P., Cedar Hill, Texas
Industry awaits Distinguished Service nominees
Seven leaders of the auto industry have been selected to receive the Automotive Hall of Fame's 2006 Distinguished Service Citation. The recipients will be honored at the Automotive Hall of Fame and Annual Awards Luncheon February 12, 2005, at the Walt Disney Swan Hotel in Orlando, Florida, during the Annual Convention of the National Automobile Dealers Association.
Distinguished Service Citation honorees are: Julie Nguyen Brown, Chief Executive Officer, Plastech Engineered Products, Inc.; Thomas G. Elliott, Executive Vice President (retired), American Honda Motor Co.; Alfred L. Gaspar, President Emeritus, Automotive Aftermarket Industry Association (AAIA); Lloyd Reuss, Executive Dean of Center for Advanced Technologies, Focus: HOPE; Ralph C. Seekins, Owner, Seekins Ford Lincoln Mercury; John K. Teahen, Jr., Senior Editor, Automotive News; and Susan J. Unger, Senior Vice President and Chief Information Officer, DaimlerChrysler AG.
The Distinguished Service Citation recognizes men and women who have made significant contributions to the motor vehicle industry through either sustained superior performance or a specific important achievement, and who are still active in the industry or recently retired.
For more information about the Distinguished Service Citations or to reserve your place at the Annual Awards Luncheon, please call the Automotive Hall of Fame at 313-240-4000.

"Could spend all day here!"

- Hal & Jackie H., Akron, Ohio


Engineering genius pioneered extreme design philosophy

As the list of Inductees to the Automotive Hall of Fame continues to grow, we plan to revisit and celebrate their achievements in many ways, including this newsletter, The Driving Spirit. In this issue, we bring you the story of Alec Issigonis, the engineering genius behind the original Mini.


Alec Issigonis was an independent thinker, he despised convention, and he would not take advice gladly. He is credited with uttering the now-famous line, "A camel is a horse designed by committee."

Moreover, he was a failure at mathematics, once stating that pure mathematics was the enemy of every truly creative man. Then how did Alec Issigonis become one of the auto industry's greatest engineering geniuses?

A British citizen born in Turkey in 1906, Alec Issigonis did not witness an automobile first-hand until he was 12 years old. Returning to England in 1922, not yet 16, he enrolled in engineering school, failing mathematics at every turn. He was offered a job at Morris Motors Ltd. in 1936 and was immediately given the job of steering and suspension engineer.

In 1942, Morris gave Issigonis overall responsibility for an all-new model. The entire team consisted of Issigonis and just two draftsmen. At last, he thought, he could design a horse, and not a camel. This new car was launched in 1948 as the Morris Minor. While the car's styling was debated, the Morris Minor was revolutionary for the period, featuring a smaller exterior, a very spacious passenger compartment and outstanding road handling characteristics.

The Morris Minor was an immediate success, taking just 11 years to hit the one million sales mark.

More importantly, the Morris Minor was the first characterization of the Issigonis design philosophy: maximize interior and cargo space while minimizing to the extreme all other components. It was a design philosophy that was not immediately understood.

In 1952, Morris Motors merged with Austin Motor Company to form British Motor Corporation. Issigonis, forever the independent thinker, saw another proverbial camel on the horizon. In opposition to the merger, he resigned and joined Alvis Ltd. to design a luxury car.

Designing a luxury car was definitely not the kind of project he wanted to work on, but in 1955, when Alvis decided to cancel the project, Issigonis resigned again and rejoined British Motor.

In response to the Suez Oil Crisis of 1957, British Motor called upon Issigonis to head development of a small, fuel-efficient car. The result would become his masterpiece. Initially sketched with a pencil on a tablecloth, this top-secret project was initially called ADO 15, short for Austin Design Office Project 15.

The design challenge was clear. Issigonis somehow had to design and engineer a car that would seat four passengers and their luggage in a package not to exceed 10 feet in length. Moreover, he insisted that no less than 80 percent of the car's volume be dedicated to passengers and luggage. This meant that the engine, gas tank, all mechanicals, wheels and tires were to make up only 20 percent of the car.

Issigonis used a front wheel drive, transverse mounted engine, the first modern application for this set up and one that would define all future front, transverse layouts. The suspension was equally innovative and compact, utilizing a rubber cone system instead of springs. In order to keep the wheel wells from intruding into the passenger compartment, he moved the wheels to the outside corners. The wheels themselves were only 10 inches in diameter.

In October, 1957, just eight months after first putting pen to paper, the first two prototypes were on the road. The revolutionary car was launched in 1959, dubbed the Austin and Morris Mini. The Mini was instantly popular with buyers, an international cult vehicle that forced the industry to rethink all automotive engineering conventions.

In 1969, in recognition of his engineering genius, Queen Elizabeth granted him Knighthood.

Issigonis died in England in 1988 at the age of 81, having lived long enough to see his beloved Mini sell in excess of five million units.

For his ability and desire to break with convention, for his engineering genius, for his "Less is More" design philosophy, for creating the Mini, one of the world's most unique and popular automobiles, the Automotive Hall of Fame proudly inducted Sir Alec Issigonis in 2003.

"Very informative. Great historical resource."
- Elizabeth & Erik L., Shadow Hills, California
We need your help
The Automotive Hall of Fame continues its mission of recognizing the very best achievements in the motor vehicle and related industries - and can do so because of the continued generous support of many companies and organizations throughout the industry.
The Automotive Hall of Fame is primarily supported by the industry we serve. And when the industry is facing difficult times, non-profit organizations like the Automotive Hall of Fame share those challenges.
Founded in 1939, the Automotive Hall of Fame has continuously recognized, without interruption, the outstanding individuals, and their respective companies, who built and sustain this great, global industry. As much as ever, the Automotive Hall of Fame operates in a very lean and efficient manner. Nevertheless, approximately 60% of our operating budget must come from corporate and individual financial support.
Your support will help us host approximately 20,000 visitors a year and well over 100 school classrooms, all of whom learn about automotive heritage through the great pioneers and leaders. In turn, we recognize our financial supporters in a variety of ways: prominently in the Automotive Hall of Fame lobby, at our Annual Induction Ceremony (October) and Annual Awards Luncheon (February, in conjunction with the NADA convention), as well as on our website and in our newsletter. Organizations contributing $5000 or more are featured with links sending our viewers and visitors back to those organizations' own websites.
Now, more than ever, we need your help. It is our sincere hope that you will support the mission of the Automotive Hall of Fame. All contributions to the Automotive Hall of Fame are tax deductible to the extent the law allows. For information on how you can help the Automotive Hall of Fame with a pledge of support, please contact Automotive Hall of Fame president Jeff Leestma in confidence at 313-240-4000 or jkl@thedrivingspirit.org.
Thank you for your consideration.

"It was very interesting to see many influential auto industry pioneers."
- Brian F., Calgary, Canada
Looking for a New Year's resolution you can actually keep?
How about a stop at the Automotive Hall of Fame Gift Shop, a great one-stop place to get something distinctively different: one of several items with the AHF logo displaying your year-round support.
One of our favorites is the 14-ounce quality ceramic mug. Featuring a blue matte exterior and white glaze interior, you'll be proudly announcing your support for the Automotive Hall of Fame.
At just $6 (plus $3 shipping), the Automotive Hall of Fame mug makes an affordable gift for any number of people on your list - at any time of the year.
See the Automotive Hall of Fame website for more great gift-giving ideas.
---
© 2005, Automotive Hall of Fame | All rights reserved