Welcome to "The Driving Spirit"
Welcome to the premier issue of "The Driving Spirit," a new communication tool designed exclusively for and about the Automotive Hall of Fame, and the many auto industry heroes it celebrates.
Beginning with this issue, "The Driving Spirit" will be published four times annually. Each issue will include interesting information about the many events and activities of the AHF, with a special emphasis on the men and women who have been inducted into the AHF.
"The Driving Spirit" will be written and edited by a team of veteran journalists and public relations practitioners experienced in the auto industry and in auto shows and events.
We hope you will enjoy "The Driving Spirit," and play an active role in its success.
---
Presenting the AHF Inductees for 2005
This year's list of inductees into the Automotive Hall of Fame is a great mix of living individuals and those from the history books. So says Jeffrey Leestma, president of the Automotive Hall of Fame in announcing the selection of those to be inducted come this October.
"We also have a good international mix of inductees," says Leestma, noting the inclusion of inductees such as Jaguar Cars founder Sir William Lyons, and John Dunlop, the Scottish inventor of the pneumatic tire. The October 11, 2005 event, to be held at Detroit's Renaissance Center, will celebrate the accomplishments of a number of automotive industry notables.
The complete list includes:


| | |
| --- | --- |
| | Mario Andretti (1940- ), one of the world's greatest race drivers, with wins at Indianapolis, Daytona and Formula One Grand Prix to his credit. |
| | John Dunlop (1840-1921), inventor of the first successful pneumatic tire. The pneumatic tire was patented in 1888. |
| | Sir William Lyons (1901-1985), founder of Jaguar Cars. Sir William began his career by building motorcycle sidecars in 1922 and moved to coach building in 1927. |
| | Jim Moran (1918- ), who was one of the first auto dealers to advertise on television, owned Hudson and Ford dealerships in Chicago. In 1968, Moran became a Toyota distributor in a five state area in the southeast United States. |
| | Shirley Muldowney (1940- ), the first woman licensed to drive a Top Fuel dragster in 1973, won the NHRA World Championship three times, and earned 18 career NHRA victories. |
| | John (Jack) Smith, Jr. (1939- ), former Chairman and CEO of General Motors, is recognized for building the strength and depth of GM's management team worldwide. |
| | John M. Studebaker (1833-1917) transformed the successful Studebaker Brothers Mfg. Company, which was the largest manufacturer of horse drawn vehicles, into the Studebaker Corporation, becoming the second largest producer of automobiles in 1911. |
| | Alexander Winton (1860-1932) was an American automotive pioneer and built one of the first mass-produced cars in 1898. Winton held over a hundred patents in the United States and Europe for various automotive advances. |

Tickets for the 2005 Inductee Ceremony of the Automotive Hall of Fame are available by calling the AHF at 313.240.4000.
---
Rod Alberts named chairman of AHF
Six directors added to AHF Board

Rod Alberts
Chairman,
Automotive Hall of Fame
The Automotive Hall of Fame (AHF) has added six individuals to its Board of Directors and has named Rod Alberts, executive director of the Detroit Automobile Dealers Association (DADA) as its new chairman.

Joining the Board are William Chapin, president, Chapin & Co.; Robert Fesenmyer, president, Sales and Marketing, Dana Automotive Systems; Michael Martini, president, North American OE Sales, Bridgestone/Firestone; Byron Meyer, director, Sales and Marketing, Original Equipment North American Tire, Goodyear Tire & Rubber Co.; Stephen Polk, chairman and CEO, R.L. Polk & Co.; and Kathleen Schmatz, president and CEO, Automotive Aftermarket Industry Association.

Alberts, an AHF Director since 1995, will serve a two-year term as chairman. In addition to serving as executive director of the DADA, Alberts is executive director of Detroit's North American International Auto Show.

"All of these individuals are leaders in the auto industry and we look forward to them bringing their talent, creativity and energy to the Automotive Hall of Fame," said Jeffrey Leestma, president.


William Chapin
Robert Fesenmyer
Michael Martini
Byron Meyer
Stephen Polk
Kathleen Schmatz
[RETURN TO INDEX]
---
AHF: the perfect meeting venue
Organizations around Southeastern Michigan and Northern Ohio are finding the Automotive Hall of Fame to be more than a great place to celebrate the heritage of the automotive industry. They're discovering it's a great place to meet. That's especially true for companies and organizations that are closely connected to the automotive industry, says Rod Alberts, chairman, AHF.
"It's unlike any venue in the world," says Alberts. "Not only does the Automotive Hall of Fame provide some of the area's best meeting facilities, it does so in a unique environment that celebrates the individuals that have made this industry such a vibrant one."
AHF facilities available for meetings and events include:


The Library and Conference Room
Suitable for meetings of up to 35 people, the room includes a configurable table that's ideal for board meetings, classroom or press conference set up, with a built-in screen suitable for presentations. Rental cost: $400 (1-4 hours), $600 (4-8 hours).
The Atrium
An expansive setting that can handle 120 sit-down guests, or 400 in a standing reception. Rental cost: $1200 (1-4 hours), $1800 (4-8 hours)
The Theatre
Can accommodate all manner of A/V presentations, lectures and press conference events, with a capacity of 80. Rental cost: $400 (1-4 hours), $600 (4-8 hours)
The Styling Gallery
This colorful room will accommodate a sit down event for 60 guests or a standing reception for 85 guests. Rental cost: $400 (1-4 hours), $600 (4-8 hours)
The Courtyard
For a beautiful outdoor event, the courtyard can accommodate up to 100 guests. Rental cost: $300 (1-4 hours), $500 (4-8 hours)
For further information on rental of AHF facilities, contact Kristin Taulbee in the Event Marketing Department at 313.240.4000.



Some of the area's most notable companies and organizations that have or will soon take advantage of Automotive Hall of Fame meeting facilities, include:
Alma College
American Honda
Dunkin' Brands
Federal Mogul
Federal Reserve Bank of Chicago
Ford Motor Company
Fireman's Fund Insurance
ICN Wheel Press Awards

J.D. Power
Kettering University
Original Equipment Suppliers Assn.
R.L. Polk & Co.
Society of Automotive Engineers
Toyota Motor Sales
WCSX-FM
Woodward GTO Car Club
[RETURN TO INDEX]
---
Classic cars, classic rock at the Automotive Hall of Fame
Stone soup? As listeners to Detroit's "Classic Rock" station, WCSX, have come to understand, it's about cooperation, community and pulling together, one reason an off-air initiative by the radio station is gathering so much popularity as it raises hundreds of thousands of dollars for the Children's Leukemia Foundation of Michigan. And the Automotive Hall of Fame was the perfect venue for the late spring event.
They do it by building a car from the ground up, all from donations and all with the kind of magical energy that went into creating the very first bowl of "Stone Soup."
Classic car enthusiasts and classic rock lovers joined WCSX morning show hosts JJ & Lynne (Jim Johnson and Lynne Woodison) at the Automotive Hall of Fame May 24 to witness the progress of this year's effort - a clone GTO effort that began with a 1965 Pontiac LeMans convertible.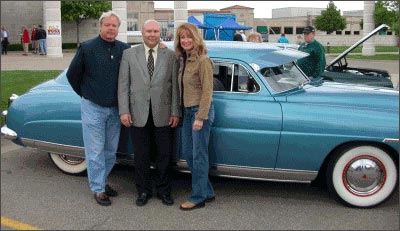 WCSX moring show hosts Jim Johnson, left, and Lynne Woddison join AHF
President Jeff Leestma at the recent Stone Soup event held at the AHF.
As a sidebar to this year's initiative, it seems Gary Cowger, president, General Motors North America, couldn't bear the thought of a winner having to actually drive the completed vehicle on wintry Michigan roads, so he called the radio station to donate a brand new 2005 Pontiac GTO, which means a lucky raffle ticket winner will get two vehicles for the price of one $25 ticket.
With a maximum of 15,000 tickets available (and every penny going to charity), morning show executive producer Jim O'Brien says the Stone Soup initiative is that much sweeter.
"This is going to be an amazing vehicle," says O'Brien. "A real show car."
Past year's Stone Soup vehicles have resulted in over $350,000 being donated to the Children's Leukemia Foundation of Michigan and the interest in this year's event is building, one more reason to act now. The raffle will be held Sept. 22, 2005 at 7:00 pm at the Renaissance Center Wintergarden in Detroit.
Tickets are available for $25 online at www.wcsx.com or by calling the Children's Leukemia Foundation at 248.353.8222.
---
Cord 812 wins AHF Heritage Award at Orphan Car Show
One way the Automotive Hall of Fame extends its reach into the community is by involving itself in important events that celebrate automotive heritage. The Ypsilanti Orphan Car Show, now in its ninth year, does just that - with a spectacular exhibition and judging of some 360 "orphans" at the June 4 event.
| | |
| --- | --- |
| | The Cord 812 Supercharged Phaeton won the first AHF Heritage Award for best exemplifying the spirit of an AHF inductee, in this case, Gordon Buehrig. |
The event, of course, focuses on vehicles that are no longer made or sold in the United States, including badges such as Packard, Studebaker, Nash, Cord, Citroen and others.

"We've found the Automotive Hall of Fame to be a great way for us to celebrate the achievements of many of the industry's greats," says Jeffrey K. Leestama, president, AHF. "It's one reason we continue to sponsor the Orphan Car Show; it's a way for us to continue recognizing those achievements through the vehicles themselves."

One such vehicle - the Cord 812 Supercharged Phaeton - and its owner Charley Saganek, received the first Automotive Hall of Fame "Heritage Award." The award is presented to the car that best exemplifies the spirit of an AHF inductee, in this case the great Auburn Cord Duesenberg designer Gordon Buehrig, who was inducted in 1989. The Cord 812 is generally considered to be Buehrig's masterpiece, and many consider it to be the most beautiful American automobile of all time.
---
Automotive Hollywood Opens at Automotive Hall of Fame
New photo exhibit honors auto design pioneer, Harley J. Earl
As important as design is to the fortunes of the modern automotive industry, there was a time when even that key characteristic was first introduced. And the man largely credited with making it happen was Harley J. Earl.
Visitors to the Automotive Hall of Fame can get a glimpse into the "history is now" display honoring the fabled Vice President of Design at General Motors with "Automotive Hollywood: A Tribute to Harley Earl," running now through July 24, 2005.
| | |
| --- | --- |
| | Harley J. Earl was General Motors' first full-time design chief, and one of the 20th Century's most influential designers. |
The first man to bring styling to the mass-production automobile, Earl got his start in Hollywood designing custom cars for Tinseltown's so called "A-list." In 1927, General Motors hired him to head the first ever Art and Colour Section. In a career that spanned four decades, Earl and his team created beautiful, futuristic automobiles that started trends and created legacies. Among Earl's numerous achievements were the use of clay models, the "Dream Car," tail fins and the Corvette.

Grandson Richard Earl, who has spent much of the last decade bringing the memory and accomplishments of Harley Earl to the forefront, created the display. He says an appreciation of the underlying strengths of the automotive industry as it is today requires an equal appreciation of the historical reality.

"The modern auto design profession is based on tradition," says Earl, a consultant who now resides in Royal Oak, Mich. "There are so many innovations and 'auto firsts' that we take for granted today; many of which are directly rooted back to Harley Earl."

Other Harley Earl innovations, as chronicled in "Automotive Hollywood:"
The annual styling model change (in effect, a catalyst for improvements of all sorts, as innovation in engineering and functionality quickly followed)

The forerunner to the modern auto show - GM's Motorama. So successful was the show concept it was imitated by other automakers.

The introduction of clay modeling. Still used today in the process of vehicle design, the methodology simply didn't exist before Harley Earl.
Earl is also known as the "father of the Corvette" and a number of historically significant concept vehicles, including Firebirds I, II, and III, and the original Buick LeSabre.

"To fully appreciate the depth and breadth of the American automotive industry, and in particular how important design has been and continues to be in Detroit - the birthplace of automotive design - we need to see and understand how history has unfolded," says Richard Earl. "That's what 'Automotive Hollywood' is all about."

And that's why the exhibit is featured at the Automotive Hall of Fame.
---
Chairman's Message
By Rod Alberts

Rod Alberts
AHF Chairman
Wow! For many people who find themselves visiting the Automotive Hall of Fame for the first time, it's the one word that's heard time and time again, even if it's only in the tone of their voice.

The fact is, the Automotive Hall of Fame is both a grand facility and an endearing concept, one that's in existence to honor and recognize the people and organizations that represent this all-important worldwide industry.

This year and going forward, much is being done to reinvigorate the AHF, including the introduction of the newsletter you're reading. We believe it's through communications like this one that more of the people who need to be involved with the Automotive Hall of Fame will see the opportunity and become involved.

At the Board of Directors level, we've put in place a number of initiatives that we believe will help, including the formation of committees focused on Public Relations and Fundraising, as well as Missions and Bylaws.

I'm pleased to report that both these groups have already met and are well on the way to establishing a new direction for the organization. Certainly, the Automotive Hall of Fame is one of those rare organizations that by its very existence strengthens the industry as it recognizes the stellar achievements of individuals.

Later this fall, we'll have the opportunity of recognizing this year's inductees through a special ceremony at Renaissance Center in Detroit. I hope to personally see you there.

In the meantime, we can accomplish even more as we work hard to make the Automotive Hall of Fame an even more significant organization. Many individuals and organizations connected to this industry have already done so very much to help build the stature of the Automotive Hall of Fame. And, for that, you can take great pride.

But there's even more to be done to celebrate our heritage, with many of those initiatives already beginning to take shape. Watch for more exciting news in the weeks and months ahead. It will be our pleasure to share the news with you as the future unfolds.

Rod Alberts
Chairman
---
President's Message
By Jeffrey Leestma

Jeffrey Leestma
AHF President
The Automotive Hall of Fame is truly the one place that recognizes the greatest achievements in the global motor vehicle and related industries. It is dedicated to preserving automotive history by celebrating the creativity, toil and genius of the individual as well as encouraging the next generation to provide similar contributions.

Past inductees represent the "who's who" of the automobile business and have included Henry Ford, Walter P. Chrysler, Alfred P. Sloan, Carl Benz and Soichiro Honda. More than 200 inductees from every part of the industry and from around the world are the industry's "heroes" featured at the Automotive Hall of Fame's innovative facility located in Dearborn, Michigan.

The Automotive Hall of Fame also annually recognizes the achievements other noted industry leaders with its coveted Distinguished Service Citation; Industry Leader of the Year; and Young Leader & Excellence distinction.

Educational programs, providing college scholarships and youth career education initiatives, are key components of the Automotive Hall of Fame's activities enabling future generations to learn and grow with this dynamic industry.

The Automotive Hall of Fame, a 501 (c) 3 organization, can only exist because of the generous support of the many companies, organizations, foundations and individuals throughout the industry. Every pledge of support will ensure that the Automotive Hall of Fame continues to honor the industry's future achievers as well as preserving the home for the great automotive pioneers of the past.

Sponsorship Opportunities Include:
Tickets to the Induction Ceremony
Tickets to the Annual Awards Luncheon
Leadership opportunities & appointments
Recognition at the Automotive Hall of Fame
Recognition at key Automotive Hall of Fame events
E-newsletter regarding Automotive Hall of Fame activities
Website acknowledgement & link
I look forward to discussing these opportunities with you personally, and hope to hear from you in the future. In the meantime, if I can be of assistance, please reach me at the Automotive Hall of Fame at 313.240.4000 or jkl@thedrivingspirit.org.
---
© 2005, Automotive Hall of Fame | All rights reserved